La decisión tiene costos tanto para Costa de Marfil, que se basa en gran medida en los productos agrícolas como el cacao y el café para apuntalar su economía, como para la industria de la confitería a nivel global.
Se viene la corrección de cacao
Costa de Marfil es de lejos el mayor proveedor mundial de cacao en grano – produce entre 30% y 40% de la oferta mundial. Con todos los disturbios, los precios probablemente seguirán subiendo.
De hecho, el analista de materias primas Dan Flynn, de PFG, predice que los precios del cacao podría fácilmente llegar a 3,550 dólares por tonelada métrica en los próximos días. El cacao es actualmente comercializado a alrededor de 3,311 dólares por tonelada métrica.
Y para los consumidores de EE.UU. y las compañías de dulces con sede en EE.UU., la prohibición de exportación hace que una situación financieramente ya difícil empeore. Los precios del cacao se han casi duplicado desde 2006, y han ido en aumento desde el pasado noviembre, cuando el problema en Costa de Marfil comenzó.
Además de esto, las compañías de alimentos están bajo presión en su intento de combatir el aumento de precios de los ingredientes y sufriendo por la disminución del consumo por la recesión.
"Aunque el aumento en los costos del cacao no es tan agudo, súbito e inesperado como el de 2008, sin duda, vuelve a introducir presión sobre los precios, y demanda trasladar las alzas a los clientes y consumidores", escribieron las analistas Susanne Seibel y Gabriela Malczynska, de Barclays Capital, en una nota a los inversores.
Cocoa surges 4% as Ivory Coast bans exports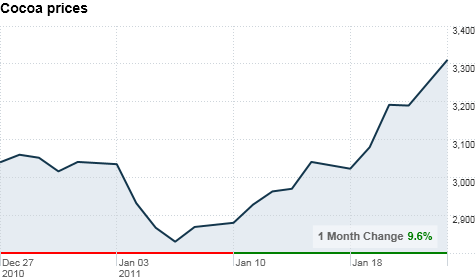 By Ken Sweet, contributing writerJanuary 25, 2011 http://money.cnn.com/2011/01/24/markets/cocoa_ivory_coast/index.htm
NEW YORK (CNNMoney) — Cocoa prices surged more than 4% Monday, after the Ivory Coast called for a one-month export ban, potentially cutting off both chocolate-loving consumers and price-sensitive food companies from the world's largest cocoa supplier.
The tiny African country has been in the midst of political turmoil for more than a month, since incumbent President Laurant Gbagbo refused to relinquish his position after losing the general election to challenger Alassane Ouattara.
Ouattara, considered the legitimate winner by the United Nations and the United States, called for the export ban late last week. The ban could cut off a lucrative revenue source used to pay Gbagbo-loyal civil servants and military officers, ultimately forcing Gbagbo to step down.
The move comes at a cost both to the Ivory Coast, which relies heavily on agricultural commodities such as cocoa and coffee to fuel its economy, and the world's confectionary makers.
The Ivory Coast is by far world's largest supplier of cocoa beans — providing between 30% and 40% of the world's supply. With all the unrest, prices will likely keep rising.
In fact, PFG commodities analyst Dan Flynn predicts cocoa prices could easily reach $3,550 per metric ton in the next few days. Cocoa is currently trading around $3,311 per metric ton.
And for U.S. consumers and U.S.-based candy companies, the export ban makes an already financially difficult situation worse. Cocoa prices have nearly doubled since 2006, and have been steadily rising since last November, when the trouble in the Ivory Coast began.
On top of that, food companies are under pressure as they try to combat rising ingredient prices without passing on the cost to recession-wary consumers.
"While the rise in cost [in cocoa] is not as sharp, sudden and unexpected as the previous hike in 2008, it undoubtedly re-introduces price pressure, and the requirement to pass on these higher costs to customers and consumers," wrote Barclays Capital analysts Susanne Seibel and Gabriela Malczynska in a note to investors.
The ban reportedly forced privately-owned food processing giant Cargill, which buys about 15% of its cocoa from the Ivory Coast, to shut down all cocoa operations in that country.
Mars Inc., the world's largest candy company, said in a statement that it was still working to understand the situation in the Ivory Coast but "we are certain that in the short term this will not impact our ability to manufacture the chocolate products that our consumers desire."
Hershey (HSY, Fortune 500) and Archer Daniels Midland (ADM, Fortune 500) both said they were monitoring the situation but declined to comment on the specific impact the cocoa export ban might have on their manufacturing capabilities.
Food industry analysts expect the quickly-rising price of cocoa may require food companies to institute price increases — or at least have a reason to follow through with price increases. It comes at a time when consumers have already been dealing with generally higher food and energy costs, with the USDA saying it expects food prices to "accelerate" into the first six months of 2011.
"Food inflation is back, and we expect the leading manufacturers to implement price increases," said Barclay's Seibel and Malczynska.

Cocoa surges 4% as Ivory Coast bans exports – Jan. 24, 2011 24 Jan 2011 … Cocoa prices surged more than 4% Monday, after the Ivory Coast called for a one-month export ban, potentially cutting off both …
money.cnn.com/2011/…ivory_coast/index.htm
—————————————————–
Foreign Policy: In Ivory Coast, A 'Genocide' Problem
U.N. soldiers patrol the Abobo neighborhood of Abidjan, a district in the Ivory Coast. The U.N. boosted the number of peacekeepers to 2,000 last week amidst building political conflict in the country.
Sia Kambou /AFP/Getty ImagesU.N. soldiers patrol the Abobo neighborhood of Abidjan, a district in the Ivory Coast. The U.N. boosted the number of peacekeepers to 2,000 last week amidst building political conflict in the country.
January 24, 2011
Elizabeth Dickinson is assistant managing editor at Foreign Policy.
Across the board, the rhetoric on the Ivory Coast is escalating. The West African economic community, ECOWAS, says it is set to intervene militarily to unseat should-be-outgoing President Laurent Gbagbo. African Union mediator and Kenyan Prime Minister Raila Odinga left Abidjan without making progress earlier this week, saying that mediation was failing. On Jan. 19, the United Nations' Security Council unanimously approved boosting the number of peacekeepers in the country up by 2,000. And on the same day, U.N. officials expressed concern about possible "genocide, crimes against humanity, war crimes and ethnic cleansing in Cote d'Ivoire."
Wait, so if all this is to be believed, are West Africa and the United Nations about to intervene militarily to prevent a genocide?
No. Start with the fears of "genocide" — which is a very specific word that means very specific things, all of which would be a stretch to say about Ivory Coast right now. Genocide is defined as the "intent to destroy, in whole or in part, a national, ethnical, racial or religious group." And the conflict in Ivory Coast is so far a very political — and two-sided — one. Fighting has been primarily between the two military forces loyal to the two presidential claimants, Gbagbo and Alassane Ouattara. The U.N. has reported nighttime raids by pro-Gbagbo forces (i.e., the national military) against the pro-Ouattara camp, as well as the presence of at least one mass grave.
Alarming as these reports are, all evidence points to their being roundups of suspected or real opposition supporters — not just anyone who happens to belong to a certain "group." Elsewhere in the countryside, refugees are fleeing from both political sides and from all ethnicities. "If they are in the stronghold of Ouattara, then [the people who are fleeing] are pro-Gbagbo, and vice versa," UNHCR's Fatoumata Lejeune-Kaba told me by phone. In other words, there are abuses going on on both political sides. This is much closer to war than extermination.
To be sure, the violence is horrible no matter what we call it. But how to deal with it changes entirely if we start calling this genocide. If the "g" word is evoked, this becomes primarily a humanitarian, rather than a political, crisis. And it means there is only one side to blame. In fact, it's both. And the soft touch of diplomacy is needed here to finesse a way out of this situation. As I've written before, Ivory Coast really is split down the middle between Gbagbo and Ouattara. So if we hit this situation with a blunt instrument, at least half of all Ivorians are going to feel cheated. As a congressional analyst watching Ivory Coast told me today, "If Gbagbo is forced to step down, his hard-core supporters — which is a good number of people — will have grievances."
Speaking of blunt instruments, what are the chances of a military intervention? Despite tough words, I'm not convinced that West Africa is really very likely to send in its heavy guns. Were it to do so, it would likely require a nod of approval from the African Union, and not everyone there is on board. South Africa's President Jacob Zuma expressed concern today, for example, that the election results might not be as clear-cut in Ouattara's favor as everyone believes.
If there's one thing everyone does agree on, however, it's that things are going to get worse before they get better. UNHCR is concerned enough about conflict to have contingency plans in place for Ivory Coast as well as every country that it borders. Refugees who have fled to Liberia already are eager to be settled in camps — meaning they are in no hurry to return to Ivory Coast.
What's the answer here? It's looking increasingly like the only way to get Gbagbo out will be to slowly bleed him of financial resources. Nearly everyone has already cut him off — the European Union, the United States, the World Bank, and the IMF. Though even here, there's a catch: Some spoilers in the West African central bank are rumored to be feeding him cash.
Related NPR Stories
December 31, 2010 – Boiling point … supporters of the Ivory Coast leader, Laurent Gbagbo, wave the national flag at a rally. Despite international pressure, he has refused to admit losing the presidential election.
Analysts have warned that inflammatory rhetoric could help push the nation back into civil war, seven years after a previous conflict resulted in it being divided between a rebel-run north and government-controlled south.
—